Rock Hill Kennel
Stoutland MO
417-664-3128
Located in Stoutland Missouri and breeders of the Boxer. Breeding for several years and of a few select breeds contact them today.
Archers Regal Boxers
Goff KS
785-220-9869
Archers Regal Boxers of Goff Kansas breeds the Boxer. Available Boxer puppies for sale are limited. Please contact them for details regarding current available litters and upcoming Boxer puppies for sale.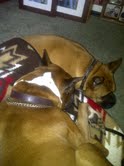 Puxico MO
573-421-6634
Country Loving Pups of Puxico Missouri breeds the Boxer. Boxer puppies that are available at Country Loving Pups can easily be found to view individually on their website listed above.

Honey Grove TX
903-378-3096
KNJ country Pups located just outside of Dallas Fort Worth Texas. Breeding the Boxer for many years and providing great dogs with great families. These Boxers have 20 acres to live on. The Boxer Puppies are RAISED in the spare bedroom of their home.



Boxers love exercise and like most breeds training is suggested. Full grown Boxers fall into the Medium dog size breed. They also have one inherent habit, that is standing up or jumping up and putting their front feet on people. That is why they should be trained well and socialized timely. As a rule, boxers are very friendly and get along well with kids. But they may not be aware of their strength and may knock down even an adult at times.
When you select boxer puppies, you should consult the boxer breeder you are getting them from on their temperament and their mother's behavior. Even the of youngest pups are learning their possible adult disposition and behavior from their mother. The mother Boxer is one of the first influences on a puppies behavior and a puppy will often take after the mother and her disposition.

Once you have chosen a boxer puppy to be your companion, you need to get prepared for training them. Even though a boxer is a very intelligent breed of dogs, they still need lots of attention, affection and exercising. The good thing about these dogs is that they do not require much grooming.