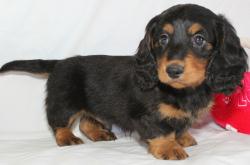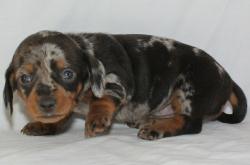 Richland MO
573-765-5358
"Our Puppies Are Top Of The Hill"! Hello my name is Pat and I welcome you to visit my website Mooney Dogwood Hills to see the sweet little dachshund puppies that we have ready for adoption. Our Dachshund puppies are featured on our website. We do have smooth hair, wired haired, and long haired Dachhsunds available throughout the whole year.
Goldsboro NC
919-920-4902
Hogg Falls Kennels have both long and short haired Dachshunds available for sale. Located in North Carolina but they do have puppies available for adoption.
St Louis MO
314-265-8553
The largest selection of coat colors, with Dachshund puppies for sale in Missouri. Beautiful colors and color combinations. Weenie World Dachshund puppies are bred for confirmation and good temperament. When looking for a loving caring new pet a Weenie World Dachshund could be the right fit.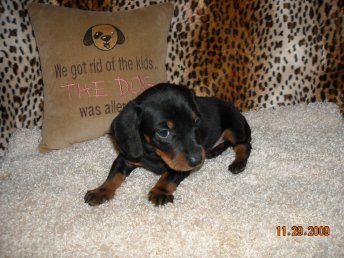 Vicky's Toys breeds the Dachshund. They have been breeding dogs at Vicky's Toys for almost 20 years. They started with Chihuahua and have added Dachshunds since. They breed these wonderful dogs because they know how much they add to a family.
According to statistics, Dachshund breed dogs have become one of the most popular dog pets in USA. These dogs have gained popularity in early 50s of the last century. This popularity did not decrease till this day. Dachshunds have an amusing exterior, cheerful personality and loyal heart. So, what to look for, when selecting your perfect Dachshund puppies?
It all starts with finding right Dachshund breeders. This is crucial, especially, if you are looking to buy a pure breed dog for exhibitions and breeding. As Dachshund is not a rare dog breed, there are good chances of finding a reliable breeder right in your local area. to do this, you may find your local Dachshund club, or just visit the nearest park, where people walk their dogs. Meet few Dachshund owners. Ask them questions, find out about pros and cons of this breed. This might help you to make up your mind.

The Dachshund
If you are thinking about adopting a Dachshund, you'd better think twice. These dogs are adorable, but they are very lively. Dachshunds are hunt dogs, and not the home pets. They have very strong hunting instincts. They love to chase, dig, hunt, turn things up side down. They make great companions, but they also demand much patience and love from their owners.