Labrador Retriever Breeders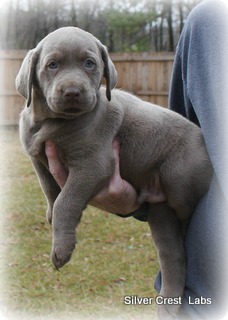 Malvern AR
501-332-5423
Silver Crest Labs breeds Charcoal and Silver Labrador retrievers. The Charcoal Lab Puppies for sale at Silver Crest are stunning, and the Silver Lab puppies are just as beautiful. Silver Crest Labs have traveled the United States to find the Silver Labs that closely fit the Labrador Retriever standards.
Pocahontas AR
870-202-9674
English Labrador Puppies born and raised at KT Labradors. Raising Chocolate Labrador Puppies, Yellow Labrador Puppies, White Labrador Puppies, and Fox Red Labrador Puppies. All the Labrador Puppies For Sale at KT Labradors can be found online at their website above.

Puxico MO
573-421-6634
Labrador Retriever puppies for sale can be viewed individually at countrylovingpups.com. They have been breeding the Labrador Retriever for a few years. Contact them to answer any questions you may have regarding their available Labrador Retriever puppies.

Mamers NC
919-539-7596
Iconic Kennels has Labrador Retriever puppies for sale in North Carolina. Breeding for several years and looking for quality homes for the great puppies they feel are a part of family. Call them now to find out about their Labrador Retriever puppies for sale!

Labrador Retriever puppies for sale in Missouri right here at McLin Critter Corral. We are close to Kansas City and St Louis. We have been breeding the Labrador for over 15 years. The Labrador is an outgoing and friendly dog breed the Labrador brings entertainment to our lives as well as lots of joy.
Breeding the Labrador Retriever for quality of the breed. We are located in Cedarville AR and our Labrador Retriever puppies for sale are registered with the AKC. Visit our nursery on our website to see the current available Labrador puppies we have for sale.


Quality puppies for sale at affordable prices from a Pennsylvania state licensed dog breeder. Our Labrador Retrievers are AKC registered. The puppies are health certified and vet checked. All our breeding dogs are health screened twice a year and we breed our dogs to have confirmation specific to their breed.
The Labrador Retriever

Labrador Retriever puppies are cute and adorable. Once you see them, you want them all. However, keep in mind, that these cuties grow up into large and strong dogs. They do require much training and grooming. They also require much feeding, which can be expensive. So, how do you pick a perfect Lab pup from a bunch of them?

The first task to manage is to select Labrador Retriever breeders. You surely want to deal with reputable and honest people. Check out US Kennel Association to obtain recommendations on such Labrador Retriever breeders. Once you get to the kennel location, there are certain things you should pay attention to. These tips would help you to determine on spot, whether you are dealing with the right breeder. This can be done, even if you are new to dogs.