United Online Pure Breeders
Superior Shiba Inu Breeders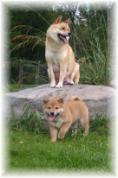 Berlin Heights OH

419-588-3170
Candy Rock Kennels, established in 1994 and and dog breeders of the Shiba Inu. Shiba Inu puppies at Candy Rock Kennels are ready to go to the right homes for this breed. To find our more about the Shiba Inus at Candy Rock Kennels contact them today!

Bow Wow Mound Kennels
Burns KS
620-726-5689

Located in Burns Kansas and breeder of the Shiba Inu. The available puppies at Bow Wow Mounds Kennels come with a health guarantee and shipping is available for the Shiba Inu puppies for sale, as well call them today for more information.
We breed the Shiba Inu and have for a few years. Our goal is to provide quality Shiba Inu puppies for sale to quality owners. We love the breed and have been breeding over all for more than 25 years. We are also located close to Denver so we are not too far from the state of Colorado.