Search For Puppies For Sale By Your Local State Here:

Interesting information about the Short Jack Russell Terrier:
Prince Charles hunts his terriers at the Quorn where the
terrier man as they are called, sets on his horse. When the fox is located the terrier is put down the
hole to bring fox up, so the ride can began.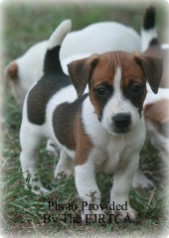 It is speculated that the English Jack Russell Terrier is a breed that started with the Old Fox Terrier.
Then mixed with the Beagle, Hound, Bedlington Terrier, Border Terrier, Bull Terrier, Cairn Terrier, Dachshund,
as well as possible the Lakeland Terrier and West Highland White Terrier. The public has fallen in love with the
Short Jack Russell Terrier since and with them they have brought smiles to thousand of faces over the years.

The Short Jack Russell Terrier has been around for hundreds of years. This breed will teach you one thing and that
is to live life to the fullest. They love to sleep with you, ride in the truck with you, work with you, laugh
with you and cry with you because they they know when you are down and want to be by your side.